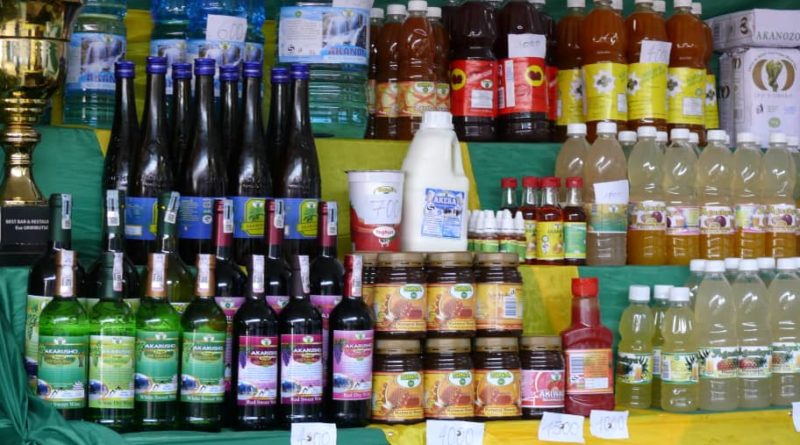 More about Urwibutso Enterprise, an agribusiness firm transforming lives of Rwandans
Urwibutso Enterprise is a Rwandan private Agribusiness-led firm that was founded by Sina Gerald to transform Agriculture and livestock into vibrant business.
Beyond that, the firm has expanded services in food processing where they have a food and beverage teaching school and many Rwandan youths get knowledge and later employed by the company.
According to Sina, this year, students in Agronomist and Veterinary school from Foundation Sina Gerald succeeded at 100% and got diploma because the enterprise offered them quality skills.
He said that the practical training from the factory was the most leading cause to their success as they learn from senior employees and technicians from the company to become experts in food and beverage processing using local crops.

Sina Gerald, Owner, Founder and Managing Director of Entreprise Urwibutso.
"We train our students to serve in food processing at the international level and it is easy for them to pass national examination, they are able to compete and work everywhere at global labor market," Sina Gerald noted.
In agro-processing, the company produces food and beverages with local names such as Urwibutso, Akabanga, Agashya, Akarusho Akanozo Akiwacu, akaryoshye and Akandi among others.

Akabanga, one of the company's food products. /Image by Viateur Nzeyimana
The enterprise will soon launch a new brand bottle of Akarusho banana wine during the upcoming Rwanda International Trade Fair at Gikondo Exhibition Ground.
Sina Gerald is participating in the 14th Agri-show that started on June 19, 2019 to end on June 26th at Mulindi Exhibition Ground in Gasabo District.
Besides Agriculture and Agro-processing that employs hundreds of Rwandans, the enterprise also has introduced more services in helping the country expand the vocational training (TVET) initiative.

Akarusho banana wine in a new glass bottle was introduced to comply with package standards and to avoid hackers
"We teach hair dressing and employ graduates, we teach tailoring and we have a workshop that employs finalists, we have construction school and we employ graduates. Recently we have constructed a catholic church using our own resources, we have a furniture training class, we have a welding class of metal tools and a mechanic class, etc. We involve and value youths in College Foundation Sina Gerald,
Sina Gerald also said that many years go producing wine Akarusho, they have now introduced a non-alcoholic banana juice for people who do not drink beer.
The new brand packaging glass bottle of Akarusho replaced the plastic one to comply with standards and to avoid hackers.
Since its inception and work experience in Rwanda in 1983, Entreprise Urwibutso now employs over 400 people.